A word or image is symbolic when it implies something more than the obvious, immediate meaning. Our five senses tend to limit our experience of the world around us. For instance, if you see a photograph of a Cougar in a magazine, you might think to yourself "what a beautiful animal" and turn the page. But lets say you're out hiking, and a full-grown 200 pound lion steps onto the trail ten feet in front of you. you're not going to say: !!oh what a beautiful animal! No. Your heart freezes...You will be seized by a primitive emotion so powerful as to take you over. You don't just give it a name. You are transported. You are thrown out of the rational mind. This is the emotion, the feeling that an effective symbol encompasses.
Our ancestors lived with these animals on a very intimate basis. They became symbols in part, because of our strong emotional reaction to them. You can experience this yourself every night when you dream. Your unconscious mind produces a multitude of spontaneous symbols while you sleep. You can fly and feel it; hunt or be hunted, and feel terror. You are experiencing symbols at their most basic level.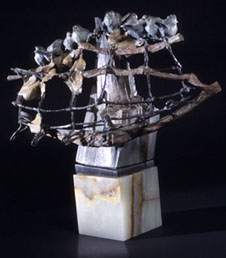 WINE COUNTRY ©1995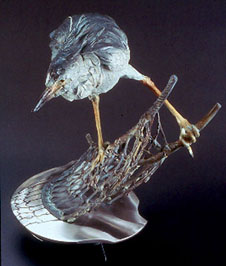 FISH NET ©1997
Symbols needn't be threatening to be evocative. I think back to a crisp fall afternoon on the 300 acre ranch in Northern Sonoma County, where we lived for a time. The late sunlight has that long, hazy slant of autumn. There is a tension in the air as if time is short for all that must happen before night, before winter. All around me small creatures are rustling, darting, and flitting about. The rattle of dry golden leaves permeates this old, abandoned vineyard. It was time for a sculpture about WINE COUNTRY.
Long ago, that sagging, rusted fence stood straight and proud, providing support and protection. A ranch hand rushing through the day, had to drive an extra staple when the first one half missed its hold in the freshly milled fence post. The indication of haste has been here sixty years now, maybe more, slowly rusting. That post once lived, and grew a few hundred yards off, where its siblings now tower in their age. Clean, new wire once gleamed in this same oblique light.
There were no tangled vines holding it up then, but after some time the fence supported the young grape vines, providing a structure for their growth. Like many such structures, that fence is now supported and weighed down with aging growth. Its original purpose long forgotten, the wire has rusted, the posts have rotted, leaning slowly toward the ground.
Juncos rest along the sagging top wire, pausing for a moment in their frantic rush. Some of them are preening, some jostling their neighbors for a better perch. Some stare into the middle distance of some small, bird dream. The shadows lengthen, the sun slips quickly behind the western hills...again.
In order for a symbol to fully express itself, some of its environment must also be apparent: wind, time of day, and season. AIR BORNE includes as much surrounding environment as possible. Stainless steel becomes the sky, scarred by forest branches. These same limbs form the matrix cradling this bird. This master of the skies; the "eagle eye" seeing beyond us; seeing movement far below. Our majestic national symbol, facing the shadow of the sky stretches across the earth, and into it. The reflection of the sky, like a bond between heaven and earth.
Vanessa and I live again at the interface of wilderness and civilization. That wilderness is the Pacific Ocean, and we live on a forty-six foot sailboat. The ocean is an environment just as powerful, and just as fragile as any other. This realization led to the creation of FISH NET, a bronze/stainless steel sculpture of a Black Crowned Night Heron hunting from a swaying net, which disappears into a stainless wave. The carelessly discarded net is caught on two lines hanging beneath an old dock. Tension in this piece is generated not only between the heron and its unseen prey, but by the bird's own unwary proximity to entanglement and death. Human thoughtlessness has become a major component of a formerly pristine marine environment.
One of the challenges of this work was to create an illusion of the net disappearing underwater. This transparency was achieved by inlaying bronze into the steel in the wavery pattern of a net receding into the depths, and using a mottled black patina to echo the marble base. Not only does this technique make the steel seem more water-like, it also emphasizes the hidden nature of this indiscriminate trap.
This piece was conceived as a statement about environmental pollution, a problem that will now be with us for thousands of years, even if all pollution ceased tomorrow. My daily bike ride takes me around a marina, then into a "restored" wetland. The amount of trash washed onto these shores is astounding to me, as is the fact that birds of all kinds seem to be increasing and maybe thriving in this combination salt marsh and dump. Thus the sculpture needed to imply unforeseen future events. However, a good artwork must also have a pleasing composition, one that engages both the eye and the intellect. This is the reason I chose the tension of the hunting heron juxtaposed with its own possible demise; the tension of the water flowing against and through the net; the tension of the bird balancing on this unstable perch.